Post by AmyJo27 on Apr 12, 2013 19:00:59 GMT -5
I haven't been on an actual computer for awhile so I haven't been able to post any pics and detailed update so here come a BIG update! Lol
I will start with Dakota. I assume him to be a Husky/Beagle or Husky/Hound of some sort. He is about 2 years old & a laid back guy who gets along with EVERYONE. …Except for cats…He was scared to death of our cat. I got a call from a guy in town who told me he had tenants move out of a house 2-3 days ago and he went in to clean things up and get ready to re-rent the house out and found out that the people ditched their dog. Not only did they just leave him but they left him in a crate with no food or water. :/ Poor pup… The guy knew if he took him to our local vet/shelter he would be euthanized immediately (they don't adopt out dogs). So he called me! I took him in and had him for a few days then he went to Kims Rescue. He is now neutered, UTD on everything, and available for adoption!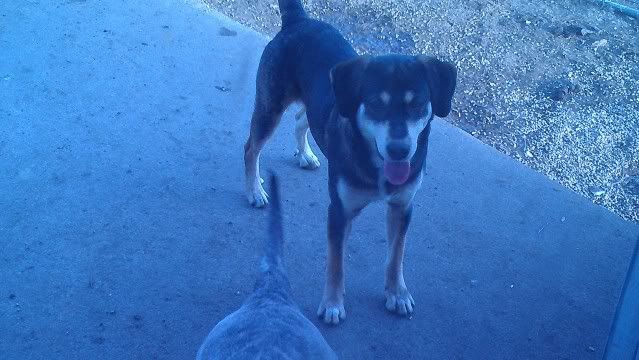 Then there is our KS trip. Which was a lot of fun…and a much needed get away for my husband and I. We really enjoyed ourselves. We met an amazing Presa breeder who I've become pretty good friends with. Got to meet all her dogs. I evaluated her dog Morpheo who she was having issues with and picked up 2 rescue dogs that were meant to be PTS the week before.
Meet Karma! She is a 2 year old Presa Mix (I personally think more Mastiff mix but ya know). Shes now spayed and UTD on everything and living with me and available for adoption (And a potential adopter is meeting her this weekend). She is a well mannered girl, whose laid back, loves women, is a little timid with men but warms up quickly, and needs someone to truly commit to her forever. I've tracked back 4 owners….Shes only 2 that's a lot of bouncing around.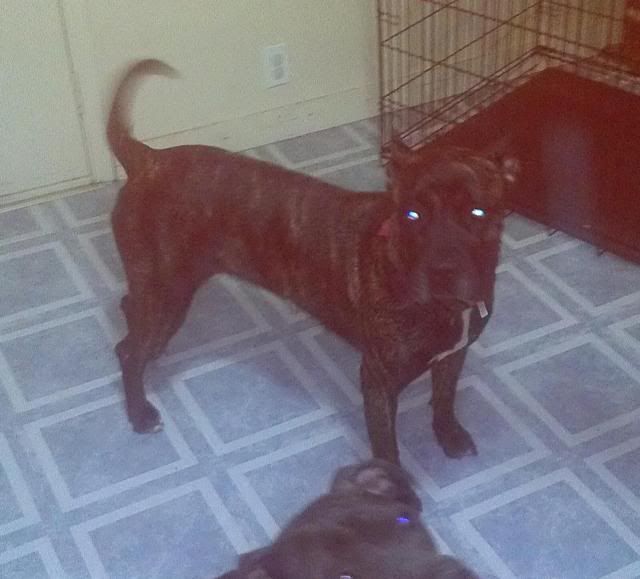 She learned very quickly that Avery gives lots of goodies…. *rolls eyes* lol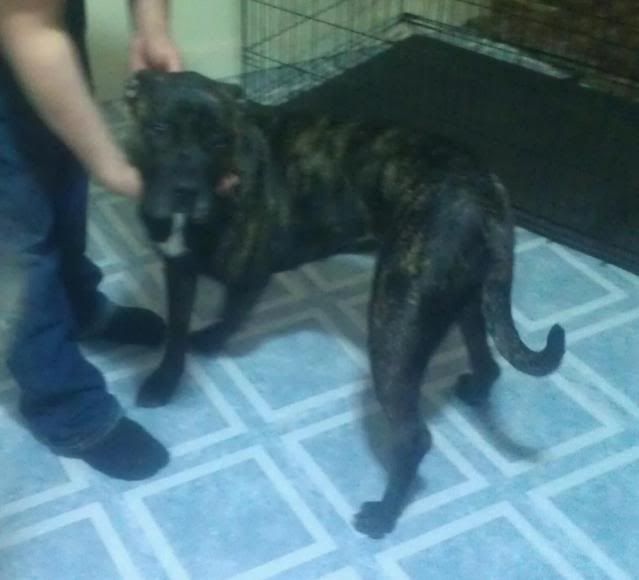 Shes a little smaller than Neva… Id say Karma is about 75 pounds ish. A good sized lil lady.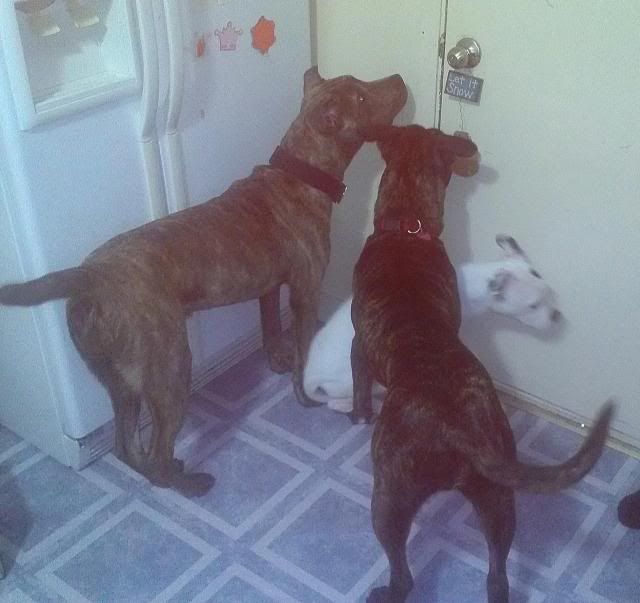 And meet Tonka (Buttons). Sweet, sweet little pup. She was in a very high kill shelter in a town with BSL she stood no chance. She was 6 months old…Full of fleas, ticks, worms etc, etc, etc.
She was SUPPOSED to be UTD on everything on pick up but the shelter obviously failed to do that. :/ She was with us for a week and was quickly going to be our first fail… She had the same personality as Bola. Just wanted to lay by the kids and follow the kids around. Such a well mannered pup that would already signal at the door to potty and NEVER had an accident. She was supposed to go to Kims before she got ill but I rather doubt that would have ever happened.
Buttons was with us for a week before she became critically ill. Turned out she had Parvo, Giardia, every intestinal parasite you can imagine. She fought hard for 3 days and began going downhill fast and was PTS. RIP sweet girl.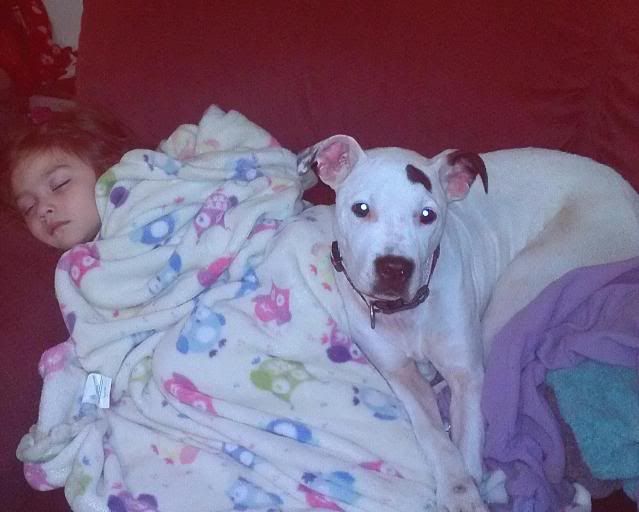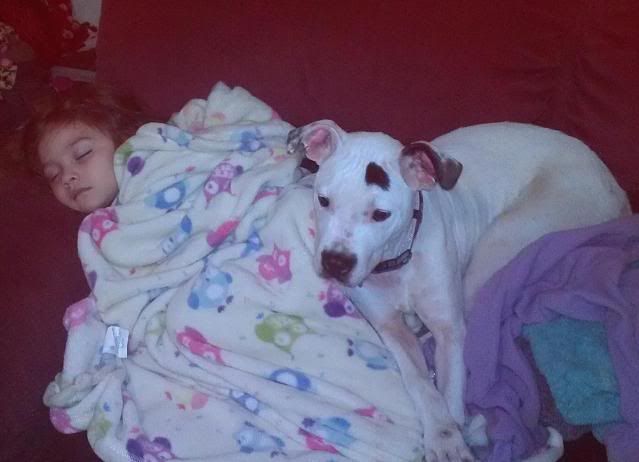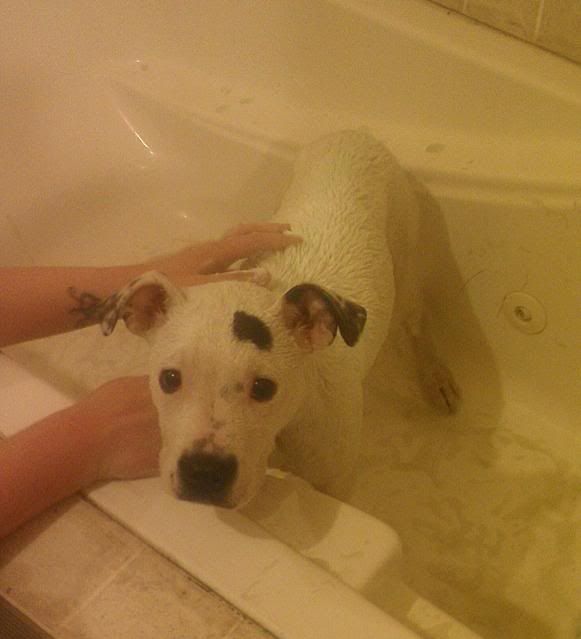 Then a few pics of my crew because its been awhile.

(Minus Capone…These pics were taken the day after he got neutered…He was not feeling so well)
Nevas ears are healing well and standing up more and more every day.